Hold Down and Release Mechanism
Categories
PRODUCTS

About
We deal with various non-pyrotechnic releasing devices using shape memory alloy of TiNi Aerospace, USA.
We also undertake the development (design, analysis, manufacturing, testing) of various holding and releasing devices using this product.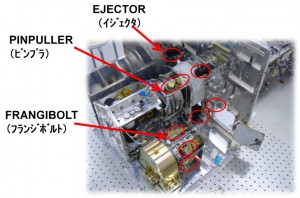 Frangibolt®
※ The following values are reference values. Please contact us for details as it may be changed.
Model

Bolt tensile strength

(N)

Maximum retention release load

(N)

Power

(W)@28 VDC

Bolt size

Maximum grip length

(mm)
Mass (g)

Body length

(mm)

Body diameter

(mm)
FD04
2,224
667
15W @ 9VDC
0.112 in(#4)
19
7
13.7
φ10.2
FC2
4,448
2,224
25
0.164 in(#8)
44.5
20
25.4
φ15.9
FC3
10,675
6,227
49
0.190 in(#10)
57.2
32
31.75
φ19.3
FC4
22,241
11,120
80
1/4 in
63.5
50
38.1
φ24.1
FC6
42,703
22,241
112
3/8 in
82.5
110
50.8
φ31
FC8
66,723
44,482
140
1/2 in
87.6
145
56
φ33
Pinpuller
Model

Retraction force

(N)

Pull-in amount

(mm)

Current range

(A)
Power (W)@(A)
Mass (g)
Length (mm)
Diameter (mm)
P5
22
6.3
0.5 to 2.0
1.9@0.5
30
32
φ24
P10
44
9.5
0.75 to 2.5
3.2@0.75
57
39
φ29
P25
111
9.57
1.75 to 6.25
19.5@1.75
75
51
φ33
P50
222
12.7
2.75 to 8.75
20.4@2.75
150
70
φ38
P100
445
15.9
2.75 to 8.75
24@2.75
360
83
φ45
Ejector
Model

Maximum load

(N)

Fixing screw size

Maximum torque

(N・M)
Current range (A)
Power (W)@(A)
Mass (g)
Height (mm)
Diameter (mm)
E250
1,112
#6-32
0.71
1.25~5.0
6.25@1.25
75
35
φ30.5
E500
2,224
#8-32
1.58
1.75~6.25
20@3.0
100
41.2
φ33
E1000
4,448
#10-32
3.6
2.75~8.75
20 @ 4.0
160
50.8
φ36.8
E2000
8,896
1/4-28
9.6
2.75~8.75
35 @ 4.0
300
67.3
φ44.5
E4000
17,792
7/16-20
24.8
2.75~8.75
40 @ 4.0
530
76.2
φ56